Things to Do in Durham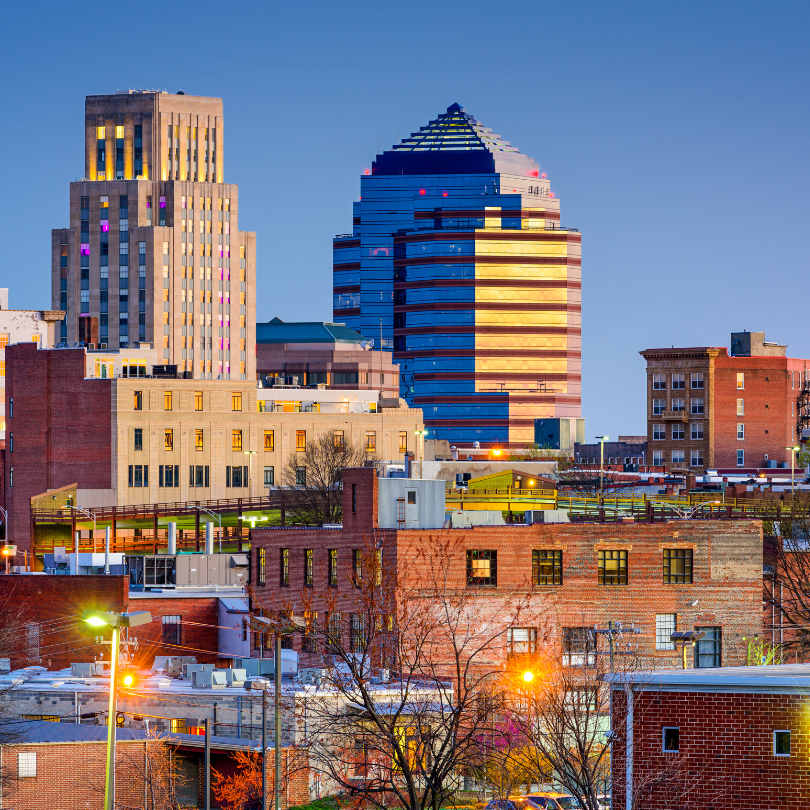 Known as the "City of Medicine", Durham is home to hundreds of medical-related companies, prestigious universities, and an environment that promotes a live, work, and play lifestyle. As one of North Carolina's biggest cities, there are plenty of things to do in Durham: 
Explore the Duke University Campus  

Duke University is one of the United States' most prestigious private universities. The home of the Duke Blue Devils isn't just somewhere to attend classes and receive a degree, it is also one of the biggest attractions in Durham. The 55-acre Sarah P. Duke Gardens, located on the east side of the Duke campus, feature a beautiful display of plants from around the world and host seasonal events and activities for both children and adults! The best time of year to visit Duke Gardens is mid-late March when the renown Daybreak Yoshino Cherry trees are in blossom. Just a short drive from Apt CoWork at Heights at Meridian, a picnic at Duke Gardens would make for the perfect scenic lunch break.  
Also located on the Duke campus is the Duke University Chapel. The Duke University Chapel is not only a safe space for those of all religious beliefs, but an incredible feat of architecture that has historical relevance to the University, the city, and the state of North Carolina as a whole.  
Learn Something  

Durham is rich in history and nature and has many museums and conservation sites where you can enjoy learning something new.  
The massive Museum of Life + Science has hundreds of exhibits featuring live animals, treetop bridges, and one of the largest butterfly exhibits in the country! Additionally, the museum is home to conservation efforts for endangered species such as lemurs and red wolves. The Museum of Life + Science isn't the only place to see lemurs in Durham, the Duke Lemur Center is home to the largest population of lemurs outside of their native habitats.  
If nature and animals aren't your cup of tea, there are plenty of historical museums and sites to visit. The Museum of Durham History offers insight into the history of the city and its important historical figures. Another inspiring place to visit is the Durham Performing Arts Center. Featuring a plethora of Broadway Shows, this home of musical theater never disappoints.  
Grab a Bite to Eat  

True to its southern roots, Durham is home to some of the best comfort food around. Whether it be breakfast, lunch, or dinner, you're sure to find a food that will make any bad day good, or good day better.  
When it comes to breakfast, Brigs at the Park is where it's at. Get a great start to your day with a Royal Skillet, Incredible Omelet, or Scrumptious Scramble. Located mere minutes from Apt CoWork at Heights at Meridian, Brigs at the Park is the perfect way to start a day of hard work.  
For your midday meal, Durham offers a variety of American, Greek and other cuisines from around the world. If you're after a fried chicken sandwich, stop by the renowned Chicken Hut for a home-style lunch. If Greek food is your fancy, Beniti's is the place to go. This local spot has a plethora of Greek classics such as gyros and souvlaki.  
Dinner is the time when Durham shines, boasting casual and fine dining options for every situation. Ted's Montana Grill is a date worthy steakhouse with a hard-to-find specialty: bison burgers and chops. Enjoy your night out with a hand-crafted cocktail, delicious plate of food, in a more upscale environment. For a more casual dining experience, try out Plum Southern Kitchen in downtown Durham. Offering southern food with a modern twist, you'll find country fried pork chops, cheddar drop biscuits, steak and mushrooms, and so much more! This local spot is only open five days a week, so don't miss out!  
As a bonus recommendation, you're always welcome to stop by Apt CoWork at Heights at Meridian in Durham for a self-guided tour of our coworking community! Check us out at aptcowork.com and let us know your favorite things to do in Durham, North Carolina.