5 Essentials to Bring to Your Coworking Space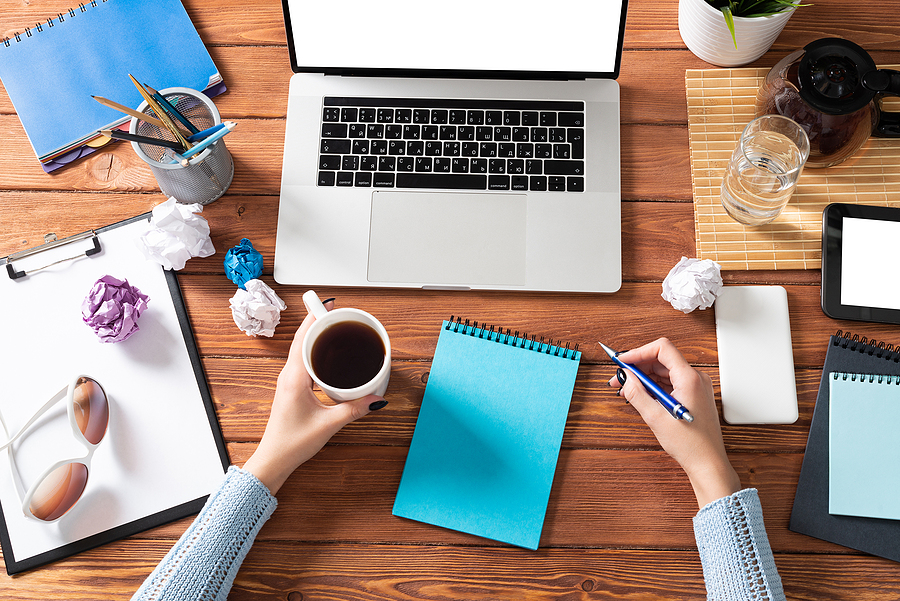 Picture this: you're about to start an important virtual meeting and your laptop is at 1%. You dig around in your bag, but you realize you forgot your charger at home. Here comes the panic! Avoid this nightmare and check out our top 5 essentials we recommend you bring with you to your coworking space. This list will help you stay productive and organized to set you up for success!
1. Travel mug and water bottle
Whether you need it first thing in the morning or around that 2 pm slump, coffee or tea is a must during the workday! At Apt CoWork, our communities are BYOC, or bring your own cup. But don't worry –we do provide unlimited coffee and tea! With our gourmet coffee machines, you can make espresso, mochas, macchiatos, and more! We even have creams and sugars for those who like to sweeten up their beverages. Our go-to travel mug is the Simple Modern Travel Mug from Amazon. Don't forget to bring a water bottle too to stay hydrated.
2. Headphones
Make sure to bring a pair of headphones with you to your coworking space. With headphones you can listen to music, attend virtual seminars, and join virtual meetings without disturbing other coworkers around you.
3. Chargers
At Apt CoWork we have charging ports everywhere—even outside!* Remember to bring your computer charger, phone charger, and headphones charger (if that applies) so you can stay productive throughout your day and not lose power during important projects or meetings.
4. Snacks
Stay fueled throughout the workday with your favorite snacks and lunch. Feel free to get creative with your snacks because at Apt CoWork we have fridges, microwaves, and toaster ovens* for all your snacking needs. Pack your lunch and store it in our fridge until you're hungry. Do you need snack and lunch ideas? Check out Work Week Lunch!
5. Business Cards
Coworking spaces are an incredible venue for networking. Like-minded professionals and creatives are all around you! Bring a handful of business cards with you when you go to your coworking space in the likely event that you meet someone you'd like to connect further with. If you don't have business cards yet, you can find professional templates and make your own on Canva and get them printed!
Stay prepared and organized. Print out this checklist and make sure you aren't forgetting anything before heading to work. What other essentials do you bring with you to your coworking space? Let us know!
*Amenities at each Apt CoWork location can vary. Please see our location pages to see all the amenities the location nearest you offers.